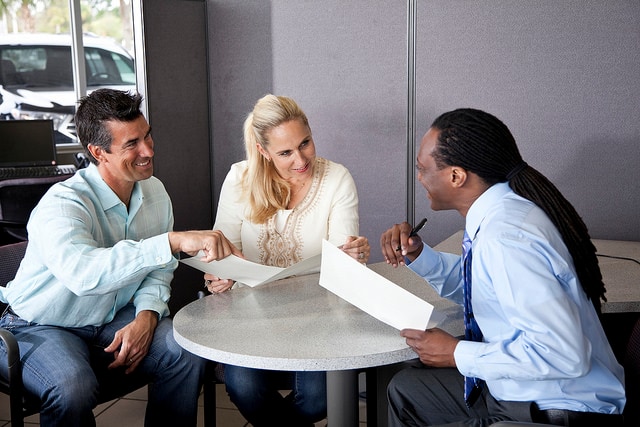 It's okay to have questions during the car-buying process. You may sometimes feel like lenders and auto experts are using an entirely different language, and it can be difficult to get a grasp on foundational ideas if you're new to the process. Even if you've bought a car before, it can still be a good idea to refresh your memory by reading about some frequently asked questions. 
What affects interest rates?
There are several factors: your credit rating, the cost of the car, your down payment, the length of the car loan, and whether it's a new or used car. There are also larger factors like market trends, but your credit rating is one of the biggest things that you can control.
You should spend about 20 percent of your income on transportation. By keeping your loan manageable, it will ensure you always make payments on time. Regarding the down payment, you should try to spend about 10 to 20 percent of the sticker price in cash. This will help to lower your monthly payment and rate.
Annual Percentage Rate refers to the annual interest and any other fees associated with your car loan. It's most often a fixed rate for cars.
Can I get a loan with bad credit?
Most lenders are willing to lend to someone with bad credit as long as you make it worth the financer's time. For example, you may be charged a higher interest rate than someone with better credit to ensure that a lender would be taking less of loss. 
What's the biggest loan mistake people make?
Simply, most people don't budget carefully enough. Spend some time before you start shopping to go over your finances with a fine-toothed comb. Know what you want to pay in total before you start focusing on the monthly rates, and always account for gasoline, maintenance, and unexpected repairs.
If you still feel like you're in the dark on the ins and outs of auto loans, come to McMullen Ford and our finance department will help build a better understanding. 
Make an Inquiry
* Indicates a required field
Hours
Monday

8am-6pm

Tuesday

8am-6pm

Wednesday

8am-6pm

Thursday

8am-6pm

Friday

8am-6pm

Saturday

8am-6pm

Sunday

Closed