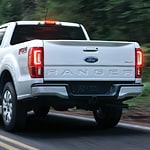 Ford Ranger is known to have one of the most powerful engines. This enables it to navigate various types
of roads with ease. Ford Ranger has a 2.3L fuel capacity, which produces between 270 and 310 lb-ft of
torque.

The auto start /stop technology is ideal in improving engine efficiency. The stop/start technology
automatically turns off the car engine at stop signs. When you release the brake pedal, the engine
automatically starts, and you are ready to go.

On the other hand, the trail control technology helps your car to navigate bumpy roads with ease.
Read More