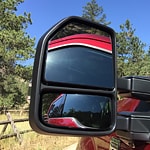 A headliner in the super duty truck world, the all-new Ford Super Duty pickup comes with innovative durability features that allow it to be driven in even the most challenging of conditions. Designed to be a heavy-duty work truck, it is made from military-grade aluminum and steel. It has a powerful body construction that is made to withstand high amounts of impact that would crumple any other smaller pickup, sedan or SUV.
Despite is heavy duty body, however, the Super Duty from Ford is also lightweight and not at all cumbersome or difficult to drive. In fact, it handles lightly on the road and is not bogged down by its own weight. Its lightweight design lets you get good gas mileage for any journey.
Appreciate the Super Duty in person by visiting your local Ford dealership. Test drives of this heavy duty truck are available to you right now.