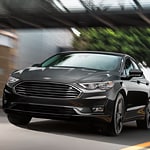 Regardless of if you're looking for a hybrid or a gasoline option, the Ford Fusion has a range of powertrain options. This popular midsize sedan is built with you in mind with performance and technology to get you where you need to.
On models like the Fusion S, you have a 2.5L I-4 engine along with a six-speed automatic transmission to get you up to 31 mpg on the highway. For those looking for more power, a 1.5L and 2.0L EcoBoost option is also available with features such as turbocharging, Ti-VCT, and direct injection to help you get the right balance of power and fuel efficiency.
The Fusion Hybrid pairs an electric motor with a 2.0L I-4 engine to get you up to 188 horsepower and 41 mpg on the highway. It even gets up to 43 mpg in the city thanks to smart features like Auto Start-Stop Technology.